Every now and again we discover some real gems - items that are both incredibly rare and, which have full provenance to back up their uniqueness - rarely do two such items come to Barrs Yard in the same month!

But... sitting here in all their glory are firstly, a complete Pugin Chapel built in 1856 for one W Gerard Walmesley on his Westwood House estate in Makerfield, Greater Manchester. Dismantled in 1905 the chapel was moved to Inglewood House in Kintbury, Berkshire which closed in 2007. The chapel was again dismantled and whilst the internal fittings were disposed of the complete fabric of the building including, the flooring and panelling was stored until this year when we acquired it - it now sits in Barrs Yard a complete building with each individual piece numbered and ready for a new home!
This really is a great find for us and a complete one off - highlights include beautifully carved and intricate decorations to door arches and roof cornices, complete original parquet flooring, marble columns and a host of other features that we've yet to uncover...
The second find is a pair of original wooden bridges from the Japanese Garden at Wilton House. With beautifully decorative patterned sides with a 4.8metre span, these bridges are painted in red with decorative gold metal finials.
Finally, we still have just two of these 19th Century Copper vessels remaining - these have been a huge success especially for larger shrubs, trees and flowering plants as they make ideal centrepieces for garden displays and can be adapted to create water fountains. These large bowl shaped items take on a lovely deep verdigre colour and make great statement pieces in both large and smaller gardens.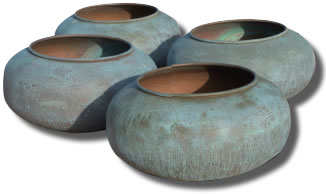 As always our stock of garden antiques is an ever changing range of urns, statuary, sundials, birdbaths, fountains, stone troughs, staddle stones and... much more for both the garden and the house.
Our website www.gardenartplus.com is regularly updated with current stock so do make sure you have a look or better still come and see us here at Barrs Yard - we are open seven days a week during the summer months.
Garden Art + Barrs Yard . Bath Road Hungerford . Berkshire . RG17 OHE
T: 01488 686811 . E: sales@gardenartplus.com . www.gardenartplus.com
www.barrsyard.co.uk