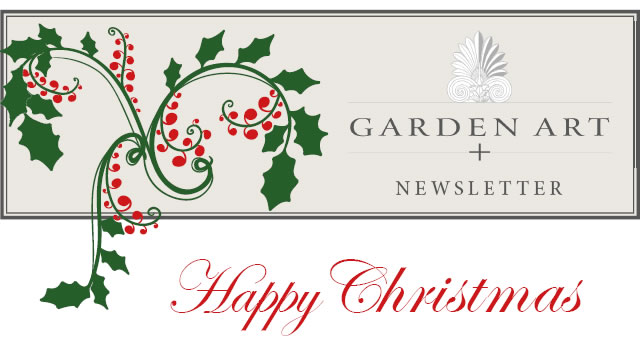 A shorter than usual December missive from us all here at Garden Art but one which comes with our best wishes to you all for a Happy Christmas and a big thank you for all your support over the past year. 2016 is going to be another exciting year for us here at Barrs Yard with plans for a site revamp, a new look website, another Chelsea Flower Show to prepare for and as always some great new stock - we look forward to seeing you!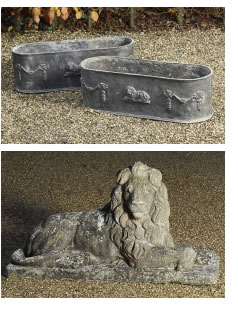 In the meantime, If you have not yet finished you're shopping then do remember that, as well as our usual large and diverse range of garden antiques, we have a good stock of smaller garden antique and contemporary items which will make ideal Christmas presents including; this pair of classical English lead urns sitting on 18th century stone plinths; a pair of early 20th century lead planters with a lion centred in each side panel or this handsome 20th century reposing lion for which we can also supply a plinth if required.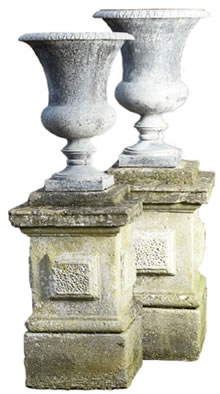 Also with Christmas very much in mind this month we welcome three pop up shops at Barrs Yard - Jax Jeans, Harpermack.com and Gastro Nick's - so as well as our range of antique and contemporary interior furnishings, lighting and artworks there will also be designer jeans and pretty tops, wonderful Italian Olive Oils and foods plus a range of exclusive and handmade gifts to choose from.
As always our stock of garden antiques is an ever changing range of urns, statuary, sundials, birdbaths, fountains, stone troughs, staddle stones and... much more for both the garden and the house.
Our website www.gardenartplus.com is regularly updated with current stock so do make sure you have a look or better still come and see us here at Barrs Yard.
Have a Happy Christmas & a Prosperous New Year !