2016 is going to be another exciting year for us here at Barrs Yard with plans for the site revamp due to start very soon, a new look website being created,another Chelsea Flower Show to prepare for and, as always, some great new stock - we look forward to seeing you soon!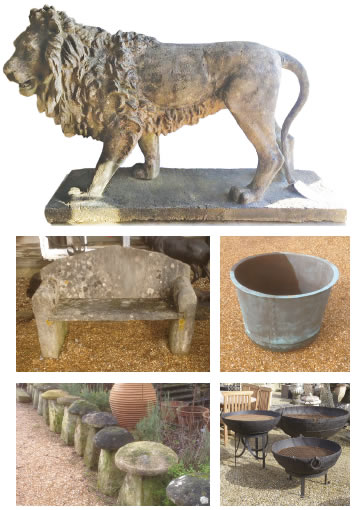 New arrivals for January include this majestic 19th century Austin & Seeley Lion - a very rare life size piece in fi ne condition, £9400; and a superb 19th century Portland Stone Bench - beautifully proportioned in an elegant simple design - £1800. We also have a new selection of copper vessels rescued from a Swiss chocolate factory - these are always very popular and there is a good range of sizes to choose from - ideal for plant containers or
the larger versions can be made into stunning garden fountains. We also have a number of English copper pots including this unusual 19th century piece at £2400.
Also newly arrived are 24 original 18th century Staddle Stones all nicely weathered and in good condition - £385 each.
Finally we now have a large selection of Kadai Fire Bowls in stock, sizes to suit all gardens and come complete with stands and grills prices range from £195.
As always our stock of garden antiques is an ever changing range of urns, statuary, sundials, birdbaths, fountains, stone troughs, furniture and... much more for both the garden and the house.
Our website www.gardenartplus.com is regularly updated with current stock so do make sure
you have a look or better still come and see us here at Barrs Yard.
Garden Art + Barrs Yard . Bath Road Hungerford . Berkshire . RG17 OHE
T: 01488 686811 . E: sales@gardenartplus.com . www.gardenartplus.com
www.barrsyard.co.uk